Come annunciato nei giorni scorsi dalle solite voci di corridoio, William e Kate hanno partecipato alla giornata finale dell'annuale
festival di Cheltenham
.
As rumors announced earlier in the week, William and Kate attended the final day of the annual
Cheltenham Festival.
Un evento molto popolare tra i reali e al quale la duchessa aveva già partecipato negli anni passati.
A ver popular event among royals adn already attended by the Duchess in the past years.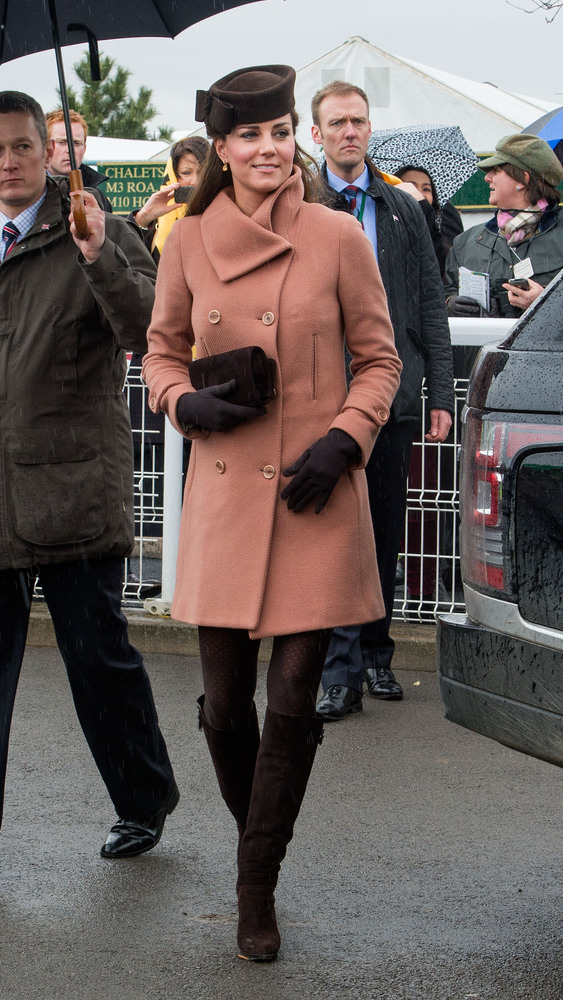 Huffington
Oggi, ultimo giorno del festival, era il proprio il cavallo di proprietà del marito di Zara Phillips, cugina di William e Harry, Mike Tindhal a gareggiare.
Today, final day of the Festival, was the Mike Tindhall's horse race day. Mike is the husband of William and Harry cousin Zara Phillips
Kate, apparsa in splendida forma ormai al quinto mese di gravidanza ha attirato tutti gli sguardi su di se e sul Royal box, senza per questo trattenersi dall'esultare per l'avvincente corsa dei cavalli.
Kate who looked very healthy on her fifth months of pregnancy and as usual she attracted all the eyes on her. She didn't seem to care that much and she enjoyed very much the horse race
Zimbio
Zimbio
Zimbio
Per affrontare la gelida giornata nel Glouchestershire la Duchessa ha optato per un look dal sapore anni '60 indossando un cappotto rosa cipria
Joseph
al quale a quanto pare, sono stato spostati i bottoni per fare spazio al pancione in crescita.
Kate faced the chilly Glouchstershire weather wearing a very 60's look: she wore a dusty pink Joseph coat where as you can clarly see, buttons have been moved to create more room for the growing baby bump.
Via Duchess of Cambridge News and Views
Kate ha abbinato il cappotto a stivali marroni
Stuart Weitzman "Zipkin boots
"
, cappello marron

e
£240 "Betty Boop"
già
sfoggiato al matrimonio Svizzera pochi giorni fa e firmato

Lock & Co

, Emmy pochette in tinta.
Kate paired the coat with her trusty

Stuart Weitzman "Zipkin boots , brown

£240 "Betty Boop"

Lock & Co. hat

already wore just few days ago for a Swiss wedding, an her matching Emmy clutch.
Stuart Weitzman Zipkin Boots
Cornelia James Kiki McDonough
Sotto al cappotto si può appena intravedere l'
abito Max Mara
sfoggiato da Kate in diverse occasioni nelle ultime settimane.
Underneath the coat you can barely see the

Max Mara printed dress

kate wore several times in the past few weeks.
Max Mara printed dress via Kate the Duchess of Cambridge Blogspot
I messaggi sono gratis dai vari gestori e potrete donare facilmente inviando DOCK55 £5 (o anche altra cifra) al 70070.
La raccolta sta procedendo a gonfie vele e molti di voi hanno già dato il loro contributo donando o semplicemente condividendo il link.
E' una cosa in cui crediamo molto e per questo volevo ringraziarvi personalmente per il vostro prezioso contributo.
Since today is also possible to donate £ 5,00 even

by texting

.

Messages are free to send on all networks and you can donate easily and faster!

You can now donate by texting DOCK55 £5 (or how much you want) to 70070!
The fundraising is going very well and many of you have already donated or helped us sharing the link.
It'a a very important issue for us and for this reason I just want to thank you all for your precoius support.