Lo so sono stata assente parecchi giorni ma il trasloco ha rubato ogni mio momento libero e nella nuova casa non abbiamo ancora la connessione internet. Fortunatamente sto trascorrendo le vacanze a casa dei miei e dopo aver assistito alla bellissima cerimonia di chiusura dei Giochi Olimpici di Londra 2012 posso finalmente dedicarmi al blog e rivedere insieme a voi tutti i look sfoggiati dalla nostra Kate in queste ultime intense settimane.
I know I have been far from my pc for a long time but as I already told you I moved to another house and I dont have any internet connection there yet. Luckily Im spending same days of vacation at my parents home and after watching the amazing Olympic Games Closing Ceremony yesterday night I can finally dedicate my time to my blog and check out all Kate's Olympic looks.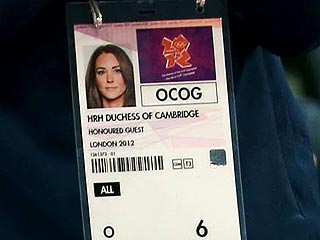 Kate's Olympic badge People.com

Iniziamo da dove avevamo lasciato. Kate ha partecipato a moltissime gare della squadra britannica e per le varie occasioni ha scelto dei look molto semplici e sportivi, solitamente sfoggiando

colori

che ricordavano quelli della

Union Jack

: blu, bianco e rosso.

Let's get started where we stopped last time. In the last weeks Kate attended many Olympic events and cheered the GB Team wearing some sporting and very simple outfits, usually chosing the

colors

of the

Union Jack

: blue, white and red.

Il

2 agosto

Kate e William hanno assistito a

Wimbledon

al match di tennis del campione inglese Murray. Kate per l'occasione ha riciclato l'abito di

Stella McCartney

indossato per la visita alla National Portrait Gallery e la

Smythe

blazer in blu.

August 2nd

Kate and William cheered the British tennis champion Murray at

Wimbledon

. For the occasion Kate recycle the Stella McCartney blue dress already wore for the National Portrait Gallery Exhibition and the blue Smythe blazer.
Bryan A Graham Twitter
Splash News
uk.lifestyle
Zimbio
Getty
George Murphy Twitter